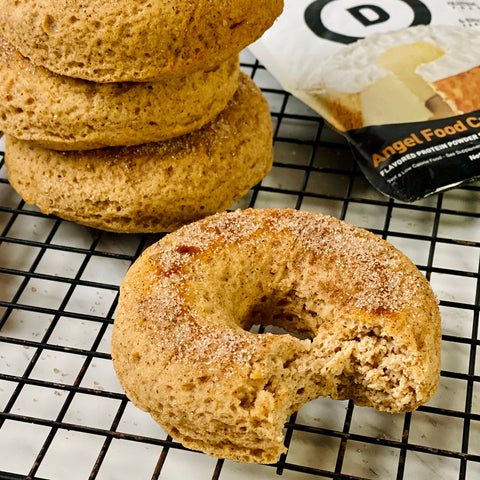 Churro Protein Donuts & Muffins
1/2 C pancake baking mix* (Birch Benders, Kodiak, etc.)
-we used Birch Benders Keto pancake & waffle mix
1/2 tsp baking powder
1 1/2 tsp cinnamon
1/2 C water
1/4 C unsweetened applesauce
1/2 tsp vanilla
Optional cinnamon "sugar" topping:
2 tsp granulated sweetener (Swerve, Truvia, etc.) 
1/4 tsp cinnamon
Preheat oven to 375. Apply non-stick spray/oil to 4 wells of donut baking pan with full-size (3.5" across) wells. For muffins, spray 6 cavities of a muffin pan or use parchment liners. If using a silicone baking pan, place on a firm baking sheet.
In a small bowl, mix together dry ingredients and set aside. In a separate bowl, whisk together liquids until well blended. Add liquids to dry ingredients and mix well. Spoon into prepared donut pan and bake until cooked through, approximately 12-14 minutes. Tops will spring back when lightly touched.
Remove from oven and allow to cool a few minutes on cooling rack. If using a silicone pan, run a knife or spatula gently around the edges to ensure that donuts release easily. Remove from pan and sprinkle with granulated topping, if desired.
Optional topping/garnish: Mix granulated sweetener with cinnamon and sprinkle on donuts or muffins.
Serves 4

Macros per donut Cal: 91 // Fat: 4.5g // Sat Fat: 1g // Carbs: 4.3g //  Fiber: 2.4g // Pro: 8.4g // Sugar: 2.1
*If a suitable pancake/waffle mix is not available, use 1/2 C flour (all-purpose, gluten-free, ground oats, or other flour of your choice), plus1/2 tsp baking powder.
Because pancake mixes often include egg, when making this substitution, you may also wish to replace the 1/4 C applesauce with 1 egg + 1 egg white.