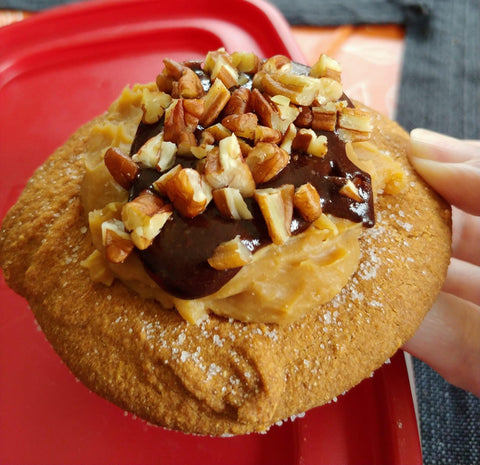 TWIX Inspired Protein Cookies
Cookie Base
2 scoops Devotion powder (any flavor)

1 C coconut flour

1/2 C nut butter

3 tsp maple syrup

3 tsp water
Let dough sit at least 5 minutes. Scoop onto baking sheet and bake at 350 degrees for approximately 20 minutes.
Caramel Topping
1/3 butter

3 tsp brown sugar substitute

2/3 heavy whipping cream

2 tsp pure vanilla extract
Melt butter and sugar on medium heat, 2 to 3 minutes.  Add cream and stir 5 to 7 minutes.  Remove from heat and add vanilla. 
Optional.  Add 2 tsp peanut butter at this time . Cool and refrigerate.
Chocolate Topping
1 scoop Devotion Brownie Batter

Water to make thick paste
Assemble toppings on cooled cookie base.  Top with nuts and granulated sweetener, if desired.  This cookie is best assembled and then refrigerated. Enjoy!