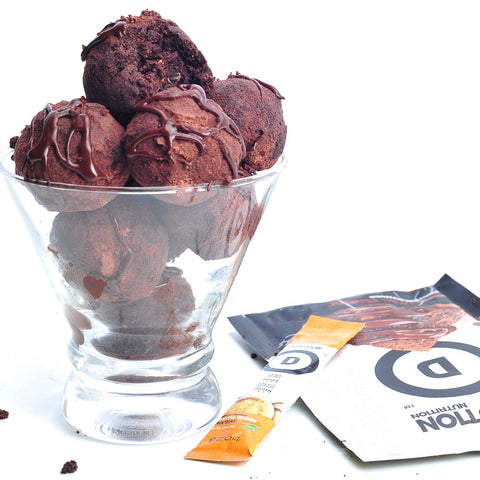 No Bake Brownie Batter Truffles
1/4 C coconut flour
1/4 Cunsweetened cocoa powder
3 TBSP honey (or brown rice syrup)
3 TBSP nut butter of your choice
6 TBSP unsweetened vanilla almond milk
1/3 C Lily's (stevia) dark chocolate chips for melting
Optional Toppings:  Crushed almonds, unsweetened coconut (not included in macros)
Add all the ingredients to the bowl of a food processor or blender and process on high until they have fully combined to form a dough. Depending on the ingredients you used, you may need to add a splash of extra milk or a small sprinkle of coconut flour to get the right consistency. The mixture should stick together easily when pressed without being overly sticky.
Using a heaping tablespoon, roll the dough between your hands to form individual balls. Set them aside on a large plate lined with parchment paper, and repeat with the remaining dough.
To prepare the chocolate coating, melt the chocolate in the microwave in 30-45 second intervals to prevent scorching. Drizzle over or using a toothpick, dip each ball into the melted chocolate and place back onto the parchment-lined baking sheet and repeat until all truffles have been coated. Sprinkle with toppings, if desired.
Refrigerate for 15 minutes +\-, or until the chocolate has set. Store the truffles in an airtight container in the fridge for up to 2 weeks.