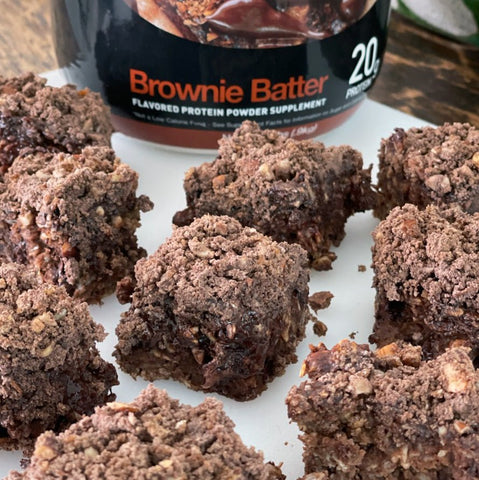 Chocolate Banana Protein Cake w/Brownie Batter Crumble
CAKE:
4 C old fashion oats
4 scoops Devotion Nutrition Brownie Batter flavor protein
4 TBSP cocoa powder
3 ripe bananas, mashed
1/2 C liquid egg whites
1 C  unsweetened almond milk
1 C unsweetened applesauce
1 C sugar-free chocolate chips (optional)
CRUMBLE:
2 TBSP coconut oil
1/3 C chopped pecans
1/3 C brown sugar substitute
1 scoop Brownie Batter flavor protein powder supplement
Cinnamon to taste

INSTRUCTIONS:
Prepare crumble first.  Set aside. 
In a medium sized sauce pan, melt the coconut oil over medium heat. Add pecans and brown sugar replacement, stirring frequently until melted together.  Reduct heat to low and sprinkle in protein, FlexFlavors® and cinnamon. Continue stirring until it forms a nice crumbly texture.
If crumble is too wet, simply add a little more protein.
Add all cake ingredients together and mix until well combined.  Grease large 13x9 glass pan.  Spread batter evenly in the pan. 
Top with crumble.
Bake 30 min at 350 degrees.